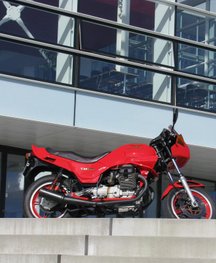 It's a bitch!
...but fun to ride!
It's the kid-sister of the MG Le Mans, same design but with the small-block motor.
The Le Mans and the Lario (named after the Moto Guzzi hometown Mandello del Lario) was designed by use of the
factorys own wind tunnel, which should give a higher top speed.
I'll however not challenge the top speed on this old bike!
My bike was first registered in Vicenza and has apparently had
a couple of owners before it was exported to Denmark in 2000.
Oh, and a small amendment to the history: Way back in the 80's there was literally a race between European and Japanese manufacturers to build the first bike that crossed the magic formula:
HP> ccm/10, that is More horsepowers that the ccm divided by 10, so this is Moto Guzzi's contribution to the race, and, well, they did'nt really make it, though... ;)


As reported by several Lario owners, this one also had a valve-break-down. Again, apparently so serious that the one cylinder head had to be welded. All this I know only because the invoices since the import followed the bike when I bought it.
I bought it in 2014 took her home from further north in Jutland, and since I've been doing some repairs and adjustments on it, mostly what can be expected from an old girl from 1986, but also a few which make me wonder a bit:
I replaced the starter engine, an old Lucas (I think from a Morris Mini?), with this new one that Stein Dinse is selling.
Valve covers have been removed so often that the threads are gone several places, and then the valve were initially maladjusted, as the preowner had followed the guides on valve clearence of the two-valve engine. Well, that can happen, so no blame. The valves are now adjusted to the correct clearence so now they really sound like they enjoy life!

Never mind. It runs OK today!